Golden Way Home Care Has a Great Job Opportunity for Seniors Struggling to Get by on Social Security
Golden Way Home Care, in Washington, North Carolina, provides a great employment opportunity for seniors who are worrying about paying for food and medicine with government benefits alone.  Since the work isn't labor intensive, it may appeal to elderly members of our community who otherwise feel intimidated about rejoining the work force after being retired for a few years.  Also, after raising children and helping to raise grandchildren, these people have the unique skills and temperament needed to properly care for the aging and infirm clients our company strives to help in Eastern North Carolina.
It is estimated that nine out of ten people over the age of sixty-five receive Social Security.  A study done in 2019 reported that the purchasing power of retirees on Social Security had fallen by 34% since 2000.  Considering how that number doesn't add in the recent rises in inflation, it's safe to assume many seniors are struggling to get by on Social Security benefits alone.
Inflation Has Forced Seniors to Rejoin the Workforce
In 2022, rent in America rose by 14%.  Food prices increased by 11.4%.  Across the board, all prices averaged a 6.5% increase, but Social Security benefits have not risen at the same pace.  Many seniors have been forced to choose between buying food or their medicine.
Beaufort County, has felt the same economic strain as the rest of the country.  The situation has placed many seniors in an anxiety-filled situation.  They believe they need to return to the work force, but they are unsure about how do it.
Some feel they won't find work, because of their advanced age.  Some feel intimidated about looking for work online.  Some feel they no longer have the stamina to work full time.  Those that do may have never even heard of job finding websites like, Indeed or Linked In. Golden Way Home Care can simplify the job search and hiring process for these retirees.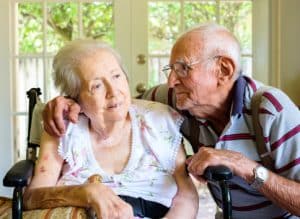 Caregiver Jobs Are Perfect for Elderly People Who Want to Return to the Workforce
Golden Way Home Care in Washington, North Carolina, is actively seeking seniors who would like to come out of retirement to work as in-home aides with our clients.   We are an equal opportunity employer who welcomes all applicants, regardless of age, race, sex, or religion, but we also believe that seniors are well suited to this type of work.  There are many benefits aside from the monetary ones our employees receive. Caregivers make a difference in the lives of those they care for.  This service helps families keep loved ones in their homes and out of nursing facilities.  It can provide much value to the lives of the ones giving care also.
Home Health Care Jobs Help Seniors Feel Valued During their Golden Years
As one grows older, there can be a tendency to feel like life has passed one by, but becoming a personal assistant can reverse those feelings.  Our caregivers make a difference in the lives of those they care for, and this can be a rewarding experience for anyone, but especially so for a senior citizen who has been retired for a while.  As one ages, friends and family pass on, and children move away.  This job is a great solution to the loneliness many seniors face as they age.
Want to Join the Team?