How to Choose the Best Job as a Nursing Assistant
Due to the shortage of Nursing Aides in North Carolina, newly certified NA1s may feel overwhelmed by all the employment opportunities available to them.  They may not be sure which job to choose from among all the selections out there.  NA1s are hired by hospitals, long-term care facilities, clinics, hospices, rehabilitation centers, and psychiatric centers, but the absolute, best job available to the newly certified is Home Care.
The Cons Regarding Some NA1 Jobs
Home care jobs provide all the emotional rewards from helping others, in a less taxing environment.   As an aide in a hospital, nursing home, or other center, nursing assistants face long hours, grueling work, and the responsibility of caring for 20+ patients every shift.  In hospice care, nurse aides have to face death and grief on a daily basis, which can wear a person down quickly; however, home care provides a more positive job opportunity for aides new to the industry.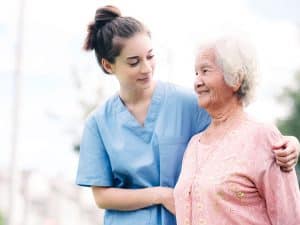 Why Home Care Is the Right Choice for Nursing Assistants
Home care employment gives nursing assistants all the rewards one experiences while caring for clients, but in a less demanding way.  Instead of overseeing dozens of patients per shift, In-Home Aides only have to care for one.  The work is much easier from a physical standpoint, less tiring to the body, and less exhausting mentally too, but still emotionally uplifting.
$1,000 Signing Bonus for New Hires
Golden Way Home Care, in Washington NC, is proud to announce a hiring initiative for nursing assistants (NA1) in Eastern North Carolina.  We plan to provide twenty new jobs for nurse aides in the following counties:  Beaufort, Pitt, Hyde, Martin, Craven, Tyrrell, Pamlico, and Dare.  In addition, new hires will receive a $1,000 signing bonus.