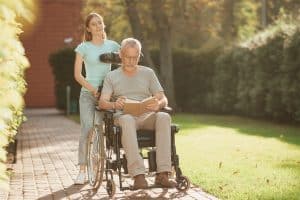 Rising Inflation and Recent Layoffs Make Many Workers Fear the Future
With many economists predicting a coming recession for 2023-24, and several corporations, like Walmart, 3M, Lyft, David's Bridal, and others, already laying off workers by the thousands, employees are feeling the strain.  Some may be concerned about job security during this time of uncertainty.  Considering how inflation has already been stealing workers' buying power, the thought of losing one's job is downright scary.  Home health care employment provides a solution to this time of unease.
In-Home Aide Jobs Are Recession-Proof
Due to this country's baby-boomer population getting older, we have a tremendous amount of senior citizens who need care.  Modern health advances have helped our parents and grandparents live longer, but many need assistance to be able to stay in their homes and avoid dreaded nursing or assisted living facilities.  This will be the trend for the next several decades, and this need will exist no matter how the economy is doing otherwise.  Nationwide, there is already a shortage of nursing assistants and in-home aides.  For these reasons, home health is a safe bet for long-term employment as an NA1 or basic caregiver.
Golden Way Home Care Offers a $1,000 Signing Bonus to New Hires
Even in the face of a likely global recession, Golden Way Home Care, in Washington, North Carolina, feels optimistic about its economic future.  We plan to hire 20 new nursing assistants (NA1), as well as unlicensed assistive personnel that we will train ourselves, in Beaufort, Pitt, Hyde, Washington, Pamlico, Tyrrell, Martin, Bertie, Dare, and Pamlico counties.  All new employees will receive a thousand dollar signing bonus.