Golden Way Home Care will host an eight-week meditation course for senior citizens in Eastern North Carolina.  Since 2002, our company has cared for elderly people in Beaufort, Pitt, Craven, Martin, Hyde, Washington, Pamlico, Tyrrell, and Dare counties.  This new program will help retired people in our community in a different way from our usual in-home care services.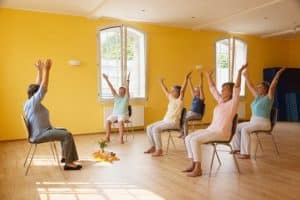 Meditation is A Great Longevity Practice
Meditation has been shown to increase memory recall, concentration, focus, and cognition, which makes it a great longevity practice for mature people.  In addition, Healthline.com estimates that seven million Americans over sixty-five battle depression each year.  Mindfulness exercises provide a fantastic way to deal with the sadness sometimes accompanying the ageing process as well as losing loved ones to time and death.
Our Free Meditation Course for Seniors Begins May 15
Our company is happy to offer this course at no charge to seniors aged sixty and older.  It will be held in our office at 2501 W 5th St, in Washington, NC.  The classes will take place on Monday nights at 7:00 PM starting May 15, 2023.  Since we have limited seating, please call and reserve your place before it's too late.